Outdoor Signs For Business
If you are looking for an affordable outdoor sign for your business, this post has you covered!
Types of Business Signs for Buildings
Here are five of the most popular outdoor signs for business:
In regards to business signs for buildings the assortment can be overpowering. Because of this, it can be a daunting task to pick what kind of business sign you'll need for your building. Further reading is an overview of different options and kinds of business signs you could have for your business.
Fabric Signs
Fabric signs are typically a cost-effective option. It's an option that is distinctive and colorful. Nevertheless, it is the kind of sign that needs to be replaced and maintained. For heavy-duty and fade-resistant fabrics, you should anticipate to pay more as they are more expensive. Nylons, plastics and vinyl banners will cost less when purchasing the fabric.
Painted Glass
If you are searching for an economical, yet a distinctive and attractive alternative, you can have your windows as the canvas using vinyl signs. It really doesn't matter of your signs elaborateness and/or design, all you're going to pay for is the installation. One of the big disadvantages of this type of business sign for buildings is minimized roadway visibility. The reason for this is, is the glare from the sun will reduce the design visibility over time.
Neon Signs
Without a doubt custom neon signs offer the most flexibility for any business looking for top-notch signage. There are several neon sign options on the market, including window neon signs and channel letter signs, among others. No signage will catch a potential customer's eye quite the way a neon sign will. More and more businesses continue to choose neon options over any other signs on the market.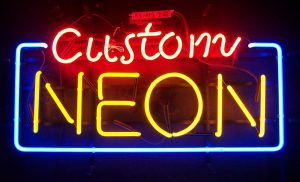 Metal Logo and Lettering
Metal signs are a very impressionable business sign for buildings. Because of this, the signs are 3 dimensional and they come with a shadow effect that enhances the signs texture and perception. The price of this sign installation is subject to the type of metal used on the sign, the size of letters or logo, and also where the sign will be located. To attract a lot of attention to your business, it is suggested that you get the sign lighted. This is particularly beneficial if you provide your services during the night. The lighting of the sign will be costly but will be worth it in the long run.
Painted Plywood Sign
This is a customizable and simple business sign on your building that is creative and cost effective additionally. Plywood is affordable and the cost of installation depends on who will be installing it. The cost of installation is subject to the font size choice, how big the sign is and which type of paint will be used on the sign. High-quality plywood types such as cherry and oak will need you to spend a little more money for the wood. The disadvantage of this kind of sign is that it is susceptible to damage by weather. Nevertheless, you can decide to replace it more often. From the above options of signs for your business, you should choose the one that suits your businesses best interests. This will greatly highlight your business in addition to promoting your distinctive business identity and brand.
Outdoor Signs For Sale
If you're looking for business signs in the Centerville area, then Davis Signs Utah has you covered! With over 30 years of industry experience it's no wonder why Davis Signs Utah is the top choice for all business sign needs. This company is currently providing signs for customers in Salt Lake City, North Salt Lake City, Ogden, Bountiful, Farmington, Brigham City, Clearfield and Centerville. Contact Davis Signs Utah today to get a quote!
Take a look at some outdoor signs by Davis Signs Utah here:
Candy Addict Sign By Davis Signs
Corleones Sign By Davis Signs
Homegoods Sign By Davis Signs
Beach Pit Sign By Davis Signs
Outdoor Business Sign Ideas
These are three creative business sign ideas:
Open Signs
With numerous competitors locally and nationally, it's extremely important for your company to stay visible at all times. Some customers may walk right by your business without ever noticing it. Make sure this issue is a thing of the past by investing in simple open signage.
It seems like common sense, but these signs are crucial for businesses. This is one of the most overlooked areas for most small business owners. Simply display an open sign in front of your business with store hours. Don't make the mistake or intentional choice of neglecting this area.
Sidewalk Signs
This affordable option is commonly used to highlight any deals or offerings your company may have. Of course, these signs can be adjusted and altered to reflect current deals or discounts. The more people that walk by and see these signs, the better it is for your overall business.
Car-Top Signs
This may seem like an outdated form of advertising, but that could not be further from the truth. This signage is one of the most affordable advertising resources on the market, and it remains a popular choice. This sign will be seen all over the town, depending on travel of the vehicle. An effective logo and/or slogan will certainly get noticed by the masses.
Sign Estimates In Salt Lake City, Utah
Davis Signs Utah can provide free sign estimates for customers from Ogden to Salt Lake City and surrounding areas. Get a free building sign estimate by giving Davis Signs Utah a call today at 801-823-3100.
More Articles About Custom Signs