Sign Repair Company Near Me
If you are searching online for "sign repair company near me," then this post can help! Whether it is neon, LED or vinyl, all signs will likely require general maintenance over time.
Sign Repair Near Me
Signs are a crucial part of the business world. For many, your company's sign may be the very first thing a potential customer sees. That's why it is important to make sure these signs stay in the best shape possible. Signs will generally be composed of electrical components and other various parts, meaning maintenance will be needed over time. Davis Signs Utah, located in Ogden, Utah, provides customers with regular maintenance, cleanings and upgrades at affordable rates.
Find more information about Davis Signs Utah's sign maintenance by clicking here.
Sign Repair At Davis Signs Utah
If you're looking for the best sign company in the Salt Lake City area, then you will find your way to Davis Signs Utah! With 30 years of industry experience, Davis Signs Utah has a wide range of products for commercial customers. Neon, pylon, monument and edge lit acrylic are just a few of the types of signs available through this company. Davis Signs Utah will also design, install, repair and replace signs when requested. From sign maintenance to LED conversion, Davis Signs Utah does it all in the sign-making industry.
Davis Signs Utah official website.

Types Of Signs
Here are a few popular types of signs that may require upkeep:
Pylon Signs
Pylon signs are popular self-supporting structures used by various businesses. These signs are typically seen in shopping mall areas, measuring more than ten feet in height.
What businesses generally love about pylon signs is the ability to customize them. These signs come in many different sizes, shapes and designs in the first place. Commonly placed along highways, the signs are perfect in these areas due to their obvious visibility, while drivers cruise by at high speeds. This is the reason why the signs are so large and well lit.
Neon Signs
Neon signs are terrific options for your business to attract new customers/clients. Not only do these signs stand out during the day or night, they are incredibly flexible for customization. Shape and design options are essentially limitless when choosing neon signage. Davis Signs Utah can customize any sort of design, including any wording or phrases on the sign.
In addition to customization, Davis Signs Utah can install and repair neon signs, whenever necessary. The professionals will take any design ideas or requests and produce the best possible product for your business. Customers can also choose which type of gas they want used in the sign. The choices are neon, xeon, helium, krypton and argon.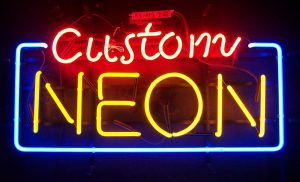 Monument Signs
A monument sign can come in two different varieties. Both one-sided and two-sided signs can be installed at various heights. Following codes, these signs tend to attract a lot of attention regardless of where they are placed. Whether it is in front of a building, inside the building or at an intersection, monument signs will get your company noticed.
Fabric Signs
Fabric signs are typically a cost-effective option. It's an option that is distinctive and colorful. Nevertheless, it is the kind of sign that needs to be replaced and maintained. For heavy-duty and fade-resistant fabrics, you should anticipate to pay more as they are more expensive. Nylons, plastics and vinyl banners will cost less when purchasing the fabric.
Directory Signs
Business directory signs located near entryways of businesses make it easy for clients or potential customers to locate and navigate to the right office or conference. Inform your building visitors by installing easy to read business directories. Directory signs are vital for all types of buildings – from commercial business complexes and hotels to government offices, clinics/hospitals and more.
Davis Signs Utah
Davis Signs Utah can provide free estimates for customers from Ogden to Salt Lake City and surrounding areas. Get a free building wrap estimate by giving Davis Signs Utah a call today at 801-823-3100.
More Articles About Custom Signs