Monument signs range in price from $150-$400 per square foot, with an average cost of $275 per square foot. Prices, of course, will vary depending on total size. So, why invest in monument signs for your business in Salt Lake City, Utah? Let's look at benefits of this signage and other pricing options.
Average Costs Of Monument Signs
The average price for a monument sign is $275 per square foot, according to SignsByCrannie. This means the typical full sign will cost anywhere from $5,500-$16,000, according to SignsManufacturing. A double-faced monument sign comes with a price tag of $16,000, including installation. 10ft x 12ft is generally the largest size for a double-faced monument sign.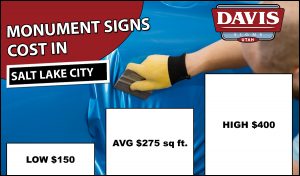 Monument Signs For Businesses
A monument sign can come in two different varieties. Both one-sided and two-sided signs can be installed at various heights. Following codes, these signs tend to attract a lot of attention regardless of where they are placed. Whether it is in front of a building, inside the building or at an intersection, monument signs will get your company noticed.
Monument Sign Quotes
Generally, most manufacturers will produce quotes based on the same few factors.
The less complex the sign is, the less it will cost. Labor costs will be lower and the quality of materials used are not top-notch in most cases.
As the complexity of the sign goes up, square footage begins to climb as well. This will cause the price to increase.
The two factors that will affect cost the most are the total size of the sign and the complexity of the sign.
So, what exactly does complexity mean when referring to monument signs? An example of complexity would be when a company decides to alter its simple sign to a brand new design with an electronic system. 3D-style lettering could be part of this new design, as well. As discussed, complexity will make the price increase, but the exposure these signs bring to your company can make it a worthwhile investment.
Monument Sign Quotes in Salt Lake City
Davis Signs Utah can provide free estimates for customers from Ogden to Salt Lake City and surrounding areas. Give Davis Signs Utah a call today at 801-823-3100.
More Articles About Custom Signs